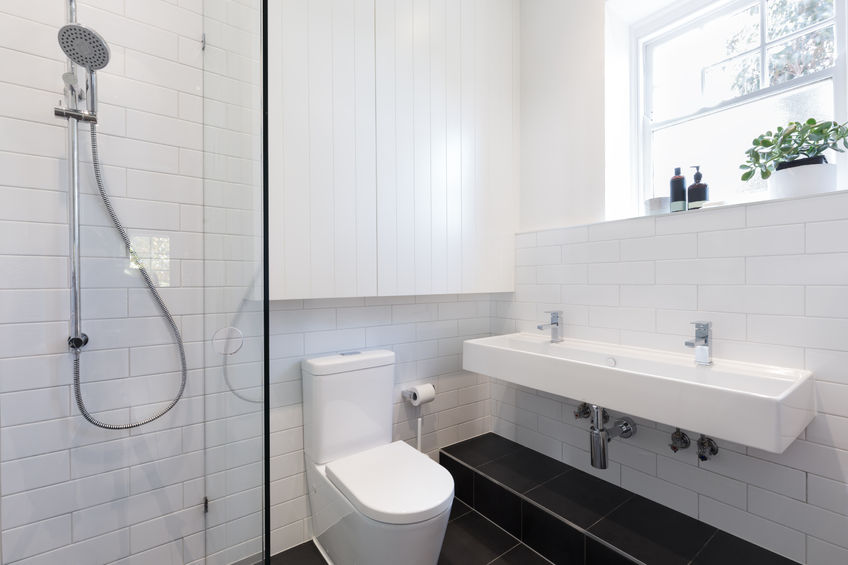 A bathroom remodeling project or makeover is one of the best ways to improve your home to make it look and feel more beautiful and comfortable at the same time. And while many people think that this kind of endeavor can be costly, it's actually not because an inexpensive bathroom remodel is definitely attainable. It might be difficult to understand because most of the bathroom remodel we observe are those that required replacement of old fixtures with new and premium ones. The good news is that for as long as you know how to be creative and you can think out of the box, there are cheap, quick and easy bathroom remodeling ideas you can try to beautify and remodel your bathroom without having to pay for a hefty price. In the end, the most important thing is that you can have a cleaner, newer and functional bathroom.
So here are some helpful and easy ideas you can try this autumn for your bathroom remodeling project.
1. Instead of replacing stuff, cover flaws and fix materials
You don't always have to throw things away when they are old and not working especially if there is a way for you to fix them. This is something you can do to your bathroom. For example, you want to cover the lower portion of your bathroom walls. What you can do is to use an easy-to-install wainscot to cover wall dings and minor holes. It is a pre-fab board that you can use so that you don't have to do any fixing and you just want to immediately cover up some flaws on your wallboard. However, if the wallboard is already dappled with mold and mildew, then you may need to track down the source so that you can stop it. And then you will have to replace the affected areas of the wallboard.

2. Look for cheaper alternatives
Inexpensive substitutes do not always mean a bad thing at all. In fact, cheaper alternatives can look as good as the originals or the more expensive ones. So for example, you want to make your bathroom flooring wooden. Instead of using the real wood plank for flooring, you can opt for vinyl tiles or luxury vinyl flooring. There are now newer vinyl that look fantastic so you might want to check out for those.
3. Refresh your fixtures with paint
If you love your vanity cabinet in your bathroom because it offers a good storage and it is durable, you can give it a refreshing look with the help of fresh paint or stain. If it was previously stained, sand off the old finish first before you apply updated stain color. If you want a new paint color, you can experiment with something that will match your bathroom walls or wallpaper, your shower curtain or the other fixtures you have inside.
When it comes to your bathroom walls, there will just be a little painting that you need to do because they are already taken up by the mirrors, tiles, showers, and tub. What you will have left are just a few square feet to paint. You can do it yourself and before you know it, you are already done.
4. Refinish your tub
Instead of getting your tub replaced, you can reline it or refinish it, especially if the problem is only cosmetic. If it has some cracks or some yellow stains, replacing it completely will be the last thing you would ever want to consider because it can be very costly and it will require a lot of work. Refinishing can do the job of making your tub look better, and it is a cheaper option.
5. Decorate
Another excellent way for you to give your bathroom a new, fresh look is by decorating. And since it is now autumn, there are many ways for you to achieve a fall inspired bathroom. You can go for natural scents and elements that will remind you of fall. Choose the colors that will go well with this season like brown, oranges, reds and blacks. You just need to make a few tweaks to have a fall-inspired atmosphere. For example, you can use flowers to decorate any flat surface in your bathroom, and you can also hang hand towels that match the color of the flowers. Then light an autumn scented candle or put essential oils that will add to the atmosphere.
Some beautiful addition is the natural elements like pine cones, acorns, cranberries and dried and colored leaves. Fill up vases or jars with these elements and put them in front of your vanity mirror. If you cannot permanently paint the bathroom with a fall-themed color, you can at least have your fall-inspired shower curtains hung.
6. Add some glam to your bathroom
You can have affordable pieces and new features added to your bathroom to make it look more glamorous. For example, you can buy chrome towel bars that match a dramatic mirror. You can also have vases of the same color or probably other storage or container that could match your theme in your bathroom.
7. Change your outdated light fixture
Another great way to see your bathroom in a whole new light is by changing your outdated light fixture. Look for something that is also dramatic and a bit stylish to finally leave the old, boring look of your bathroom behind. You can also make it a little bit more sparkly when you add a layered look to it.
8. Style your vanity and top
Your vanity tops do not have to be expensive. You can look for an existing piece of furniture and convert it to a vanity like an old dresser. You can have sinks fused into them by cutting a hole on the top so that you can have your drop-in sink and faucet placed inside. This way, you won't be needing any installation done.
9. Give your walls some texture
If you find your bathroom walls pretty plain and basic, you can add architectural interest in your bathroom by adding a beaded board. Install it by panels instead of doing it individually because it is more affordable and quicker to finish. You can hardly even tell the difference between the panels and the authentic boards.
10. Repurpose storage
When you have time to drop by the flea market, you can probably see some affordable finds like storage that you can use in your bathroom. However, if you have a very limited space in the bath, a vintage shelf can do the trick. You can have it repainted backed with a cute paper and then hang it on the wall. Use it to store your bath essentials, hand towels, etc.
11. Replace the old showerhead
Your bathroom is one of the places in your house where you want to feel pampered and relaxed. When you want to make the most of your bath, it will feel better when you use the rain-style showerhead. So if you are still using the old one, give yourself the luxury spa feel by having it replaced. There are plenty of affordable models available in home centers, these can also be easily installed.
12. Install your own toilet
If you want to switch out the old toilet, you don't really have to call a plumber because you can do it yourself. It is actually a lot easier than you think. If there is a difficult part about it, it is just the actual physical moving of the new toilet into place and if you think you need help on that, all you need is to find a cheap hand truck.
When installing your toilet, make sure you have everything you need including the wax ring, closet bolts, toilet connector, steel washers, torpedo level, adjustable wrench, and screwdriver. After assembling the toilet, you just have to move it over the flange and line up the holes with the closet bolts. When you have made sure that it is in the right position you can just press it against the floor, and add the washers and nuts.
The installation of the new toilet does not have to be difficult only if you leave it where it is originally located and not move plumbing. When you decide to move water supply or drainage, the cost of your remodeling project will surely shoot up.
Remodeling your bathroom is a brilliant idea and you can have it done without going out of your budget. When you consider doing the bathroom remodeling yourself, you can save a considerable amount of money and at the same time, you can design it any way you want. You can add a personal touch to how you want your bathroom to look and feel without having to do a lot of work and without the need to move fixtures a lot. Some little additions will do the trick and you can already have a refreshingly new bathroom you can enjoy!